Well, Toronto, it's really happened. We've been blessed (or cursed depending on your point of view) with some snowfall. Now our world looks a little more like the picture painted on the radio by the rotation of five or so Christmas carols we're treated to this time of year. My favourite is the one about chestnuts roasting on an open fire. It's winter, guys!
In my opinion, the best thing to do in the winter is stay indoors, hoard provisions, eat lots of sugar, take full advantage of wifi, and wait for spring. That's how I would do winter if I had no responsibilities. We have other options, though, especially during the holidays! I have ventured out for Toronto holiday specials for the past two weeks, but this week I have opted to sit at home and make a list of some more events you can go to in the city. Most of these have already started up, but with a little determination you could still attend. Let me live vicariously through you as you make the most of the holiday season!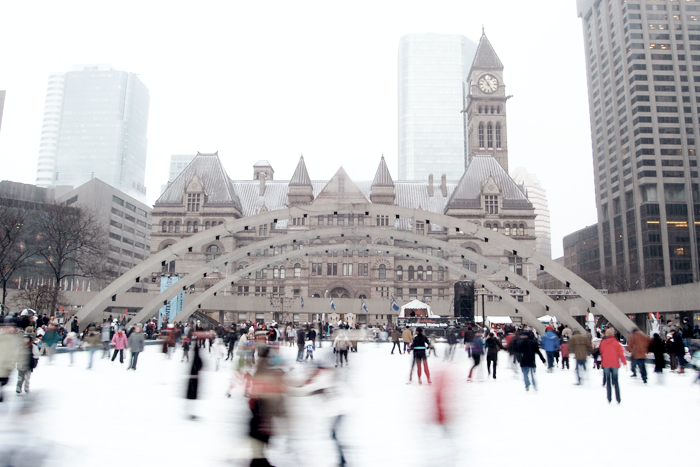 Not content with hosting Cavalcade of Lights and being a traditional go-to spot for skating, Nathan Phillips Square is hosting a Christmas Market and fair this year from December 8th to December 23rd. They hope to make this an annual event, so this is your chance to be among the first to judge what may become a holiday tradition. It's got rides, and the opportunity to meet Santa, a feature that is probably meant for kids, but we'll never know if they'll let adults take that final chance at getting the one material item they can't afford this year by appealing to a higher power unless we try. They also feature live entertainment!
Heads up, this one's only gonna be here for two more days! Union Station is hosting a free holiday market, where you can do some of that last minute Christmas shopping. One of their participating retailers specializes in funky socks, a business venture I personally find very difficult to not be highly interested in.
If ever there was a ploy to get us all to go outside this winter, you would find it here. Evergreen Brick Works offers a "cozy" outdoor skating trail, and the opportunity for children to build tiny villages at the Children's Market among other incentives to get out and be active this winter. The Winter Village will exist in some form until February 28th, but the Holiday Makers Market (brought to you in part by Etsy Canada) will be on until around January 8th.
Weekends will be full of Christmas spirit at Black Creek Pioneer Village until December 23rd! You can learn about Holiday traditions of the past, craft your own decorations, eat actual chestnuts that have been roasted on an actual open fire, meet Santa, and ride a horse-drawn wagon. They also provide the opportunity to taste "flaming puddings of yesteryear", which got me at the word "flaming".
I came across these events here, and am sure this site has other suggestions on how to conduct your leisure time this winter. So go ahead and enjoy the season! Be sure to bundle up, though. After all, we live in Canada.