Just as December waltzes out the door to the tune of holiday jingles, escorted by a playful band of adorned trees, glowing candles and enticing food. Its scornful cousin, Jan Uary arrives, bringing with it credit cards bills, sub-zero temperatures and huskier pant sizes.
But we mustn't let Jan Uary and her minions get us down! We must continue to frolic and fete even when our wallets give us the cold shoulder. Toronto, your forever best friend, will never let something as ridiculous and money keep you from merriment!
What: 15th annual No Pants Subway Ride Toronto
When: 8 January
Where: Starting at Finch Station Designated Waiting Area on Platform at 3pm
What better way to be merry than the 15th annual No Pants Subway Ride Toronto, happening on January 8th. Organized by Improv Everywhere, a New York City-based comedy collective that stages unexpected performances in public places. Join countless Toronto denizens for a day of ridiculous silliness to amuse and bewilder commuters.
The itinerary for the day is as follows:
3:00PM Meet at the DWA (Designated Waiting Area) at Finch Station
3:20ish We lose our pants and depart!
4:00ish* Pantsless Parade from Dufferin Station to Penny's
4:00PM No Pants Dance AfterParty at Penny's begins (1306 Bloor st W, just E of Lansdowne station).
*All times are guesstimates, 'cause Y'KNOW HOW THE TTC IS.
Liberate yourself from leg jail!
What: Power Plant Contemporary Art Gallery Winter 2017 Opening Party
When: 27 January, 8pm
Where: Power Plant Contemporary Art Gallery, 231 Queens Quay W, Toronto, ON, M5J 2G8
Next on our list is the Power Plant Contemporary Art Gallery Winter 2017 Opening Party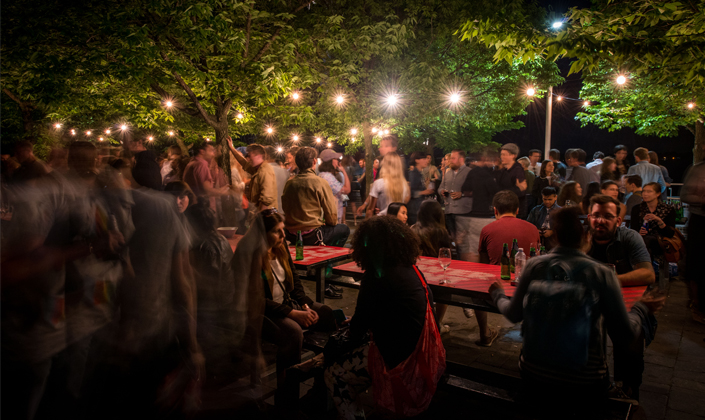 You get the privilege of being the first to experience three new exhibitions by artists Jonathas de Andrade, Maria Hupfield, and Kapwani Kiwanga while sharing in drinks and engaging conversation.
de Andrade brings us On Fishes, Horses and Man. O Peixe (The Fish), is a film documenting fishermen of Piaçabuçu and Coruripe on the northeast coast of Brazil enacting a ritual of embracing the fish that they have caught. The affectionate gesture that accompanies the passage of death is a testament to a relationship between species that is imbued with strength, violence, and domination.
O Levante (The Uprising), a performance documentation; the goal of which was to create the first horse-drawn cart race in the center of Recife, Brazil, where all farm animals are prohibited, yet, contradictorily, many people get around and earn their wages by equine means. All this horsing around must be invisible to the eye of the law and is an indicator to the artist that these laws are mere reminders of who the real land owners are, and are used with the façade of democracy, to evict anyone when it suits the owner. Only under the guise of a film, was such an event permitted to take place publicly.
Cartazes para o Museu do Homem do Nordeste (Posters for the Museum of the Man of the Northeast). 77 posters, 40 displays, 6 artist notes projected in transparent acetates, and 6 mounted newspapers ads. Started by publishing ads in the popular newspaper in Recife in search of workers interested in posing for the poster for the museum. The posters vary with each unique encounter and encompass the subject's identity, museum's image and artist's vision.
Hupfield's The One Who Keeps On Giving, an English translation of Hupfield's mother's Anishinaabe name, is a filmed performance gathered around an object. The object is an oil painting of a Georgian Bay seascape painted by Hupfield's late mother. The artist invites her siblings to contribute to the performance to depict the memories evoked by the painting. This performance will be re-enacted in the gallery. The artist invites us to join her on the exploration of meaning in objects beyond their materiality to our collective and personal understanding and interpretation of them.
Kiwanga's A wall is just a wall examines the way in which spaces are created to control and regulate our behavior, whether we notice it or not. Examples ranging from Bentham's Panopticon, to colors used to dampen aggressive behavior in penitentiaries, to fluorescent blue lights that reduce the visibility of veins on one's arms to deter the frequenting by intravenous drug-users. Kiwanga places these materials before us, opening them, and their social implications to our scrutiny.
Fret not if you miss the opening party, you can catch these exhibitions until May 14th. However, we can't promise you the stimulating conversation and beverages after the 27th.
What: Toronto Light Fest
When: 27 January-12 March
Where: Distillery District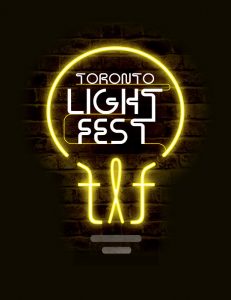 A brand-new event transforming the Distillery District into a 45-acre open-air gallery exhibiting local and international artists. In these works, light is the primary means or medium of expression, its limitless manipulation lends itself to majestsic and creative art limited only by the artist's imagination and 3.00×108 m/s, the speed of light. If the illumination isn't enough to warm your soul, they will also have warm mulled wine.
Now, my poverty-stricken brethrens and sisterns, this is where your journey with me ends. The following events come with a price tag, so, if you spent the holidays angering your family and significant other in a well-articulated protest of capitalism and over-consumption, you can now make it up to them. And not 'cause some socially imposed holiday is telling you to! Just 'cause you love 'em.
What: Next Stage Theatre Festival
When: 4 January-15 January
Where: Factory Theatre, 125 Bathurst St, Toronto, ON M5V 2R2
How much will it hurt: $10-15
Fringe theatre allows up-and-coming artists to get their big break and provides underrepresented artists with a louder voice. This year marks the 10th anniversary of Toronto's own fringe festival: Next Stage Theatre Festival. As always, Next Stage is abounding with fabulous shows for the expert and novice indie theatre-goer alike. And, at $10-15 a show, they are more than affordable.
What: Tinder Tales Live
When: 10 January and 25 January, 8pm.
Where: Gladstone Hotel, 1214 Queen St W, Toronto, ON M6J 1J6
How much will it hurt: $12 (adv), $15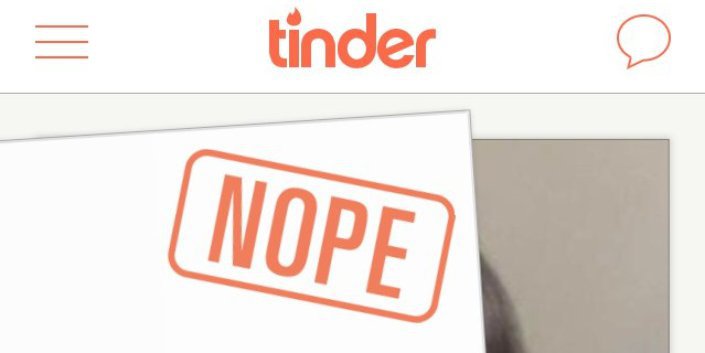 The name really says it all. Storytellers, comedians and your neighbor Frank share outrageous tales of their attempts at making sense of love in a society that has no time for conversation, but plenty of time for dictures.
What: What The F*!k Were You Thinking
When: 12 January, 8pm and 9:30pm.
Where: Comedy Bar, 945 Bloor W, Toronto, ON, M6H 1L5
How much will it hurt: $12 (adv), $15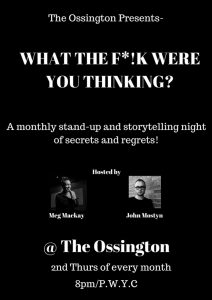 And while we're on our topic of our romantic failures, why stop there? Let's toss in our deepest secrets and stories of embarrassment and regret; perfect for Jan Uary. Come to Comedy Bar to hear these comics recount theirs. Maybe yours ain't so bad in comparison?