It's the perfect time of year to take advantage of all kinds of outdoor entertainment. From festivals and concerts to parks and beaches, Toronto is pretty much bursting with awesome events, fun exhibitions, tons of festivals and loads of exciting venues. One of them in particular, the Toronto Outdoor Art Exhibition has been a staple for the city since 1961 and has given us the chance to interact with the contemporary art scene ever since and it's coming up on July 8-10.
Here's why you should check it out:
History
It hasn't always been true that Toronto was as kind to its artists as it is these days – the entire reason that Murray Koffler and his wife started the exhibition in the first place is because they read in the newspaper that two artists were removed from Toronto City Hall for trying to sell their art on city property. The two immediately decided that the next best course of action was to open up an outdoor art exhibition in order to facilitate the growth and livelihood of local artists! How cool is that?
You support local art and artists
By supporting the exhibition, you support both established and emerging artists in their quest to become the best artists they can be. If you like what they offer, buy it! By coming to this inclusive platform, you not only give the artists support, but also respect for them and their art. Besides, even if all you do is go around looking at some cool art, you're still helping the artists!
Troika by Max Streicher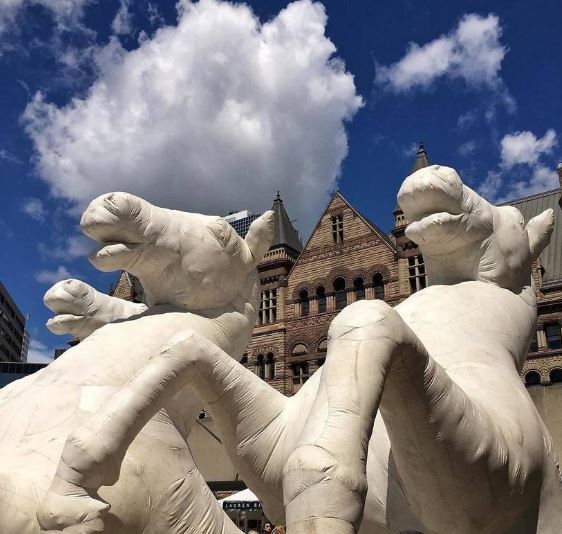 Famous artist Max Streicher, who is known for his colossal inflated figures and their relationship with architectural spaces, has set up his exhibit Troika in the space of the event. This really impressive work is comprised of inflated vinyl horses and looks awesome swaying in the wind. It's not every day you can see real-time examples of the contemporary art world at work, so come on down and check out the installation before it's too late!
A beer garden!
As if going to an art exhibition wasn't enough incentive to get outside for a day, the Toronto Outdoor Art Exhibition also has a cascading beer garden, which is the first in the city. The Exhibition has partnered with the local and amazing Henderson Brewing Company to bring the best and most creative craft beers in town, refreshing and socially lubricating the entire event!