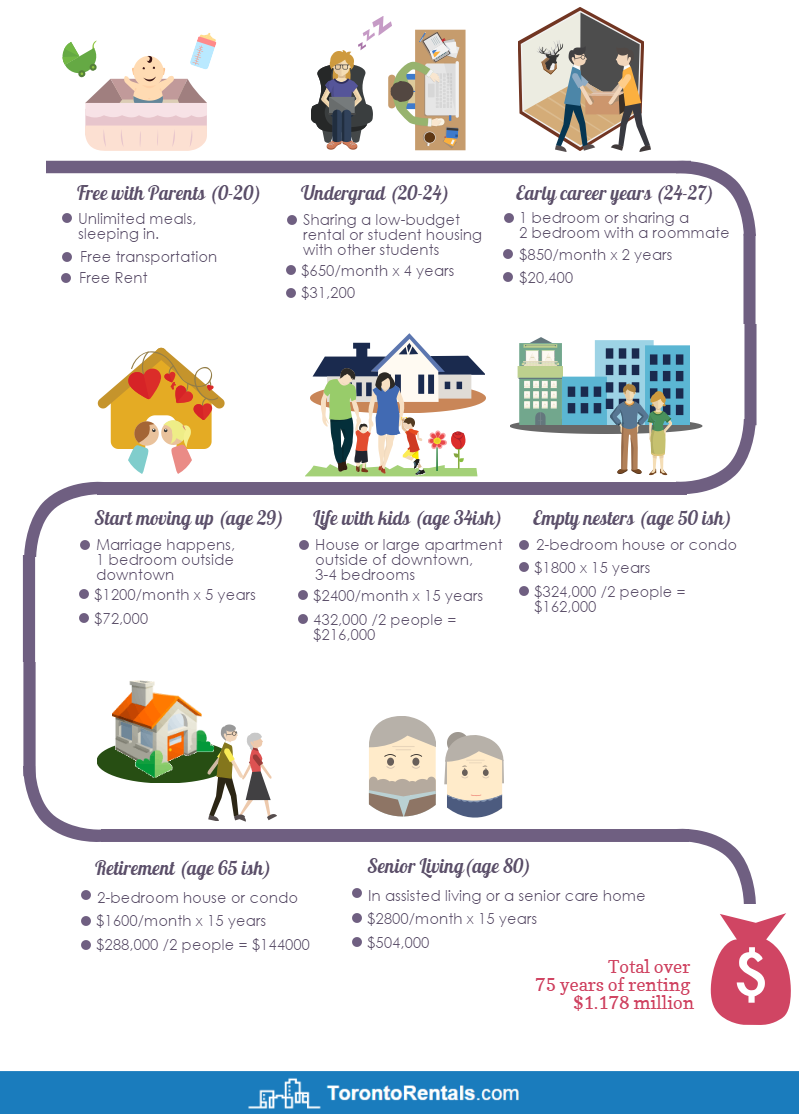 At some point in their lives, most Torontonians will own their own home. Often, that happens when, as a couple, you can pool financial resources together to make affording a house in Toronto a reality.
But what if you didn't? If you rented your whole life, how much money would that represent over a lifetime.
TorontoRentals broke down the numbers to find out. We used current Toronto average rents, mixed with realistic rental situations (such as splitting costs with roommates or your partner), discounting possible scams that may occur. The number we came up might surprise you.
Bear in mind, the amount you might expect to pay in rent over a lifetime is in today's dollars. We didn't factor in inflation or the expected increase in rental rates over time. We did this to give you a clear picture of what, in today's dollars, the final figure might be.
First, we looked at the student years. We're assuming that our renter starts college or university at age 20, gets a four-year degree, and moves on to undergraduate study while keeping in mind that student housing is also an option.
Then there are the early career years, where the cost of rent gets steep for a couple of reasons: one, these are the years when renters tend to live by themselves, so there's no roommate to split the bill with; two, living in a location that's convenient to work becomes a priority, which results in higher rents (check out the best neighbourhood for Young Professionals here.)
Moving on, rent become cheaper after marriage as you are able to split a 1 bedroom with your spouse. However, when you and your spouse start having kids, space automatically becomes hyper important. This renter pays rent that is on par with the current average in Toronto, or just slightly below.
But once the kids leave home, empty nesters move to smaller houses or apartments, and the cost of rent goes down a bit… until the final years, when assisted living becomes a necessity for most, and the price of that service sends rent sky high.
We've also assumed that between age 34 and 80, couples have the benefit of splitting the rent between them. As such, our numbers represent the rent per person. We haven't factored in for breakups, which can set renters off on their own again.
With all that said, here's what a renter can expect to pay over a lifetime:
$1.178 million
Does that number surprise you? Is it higher or lower than you expected?