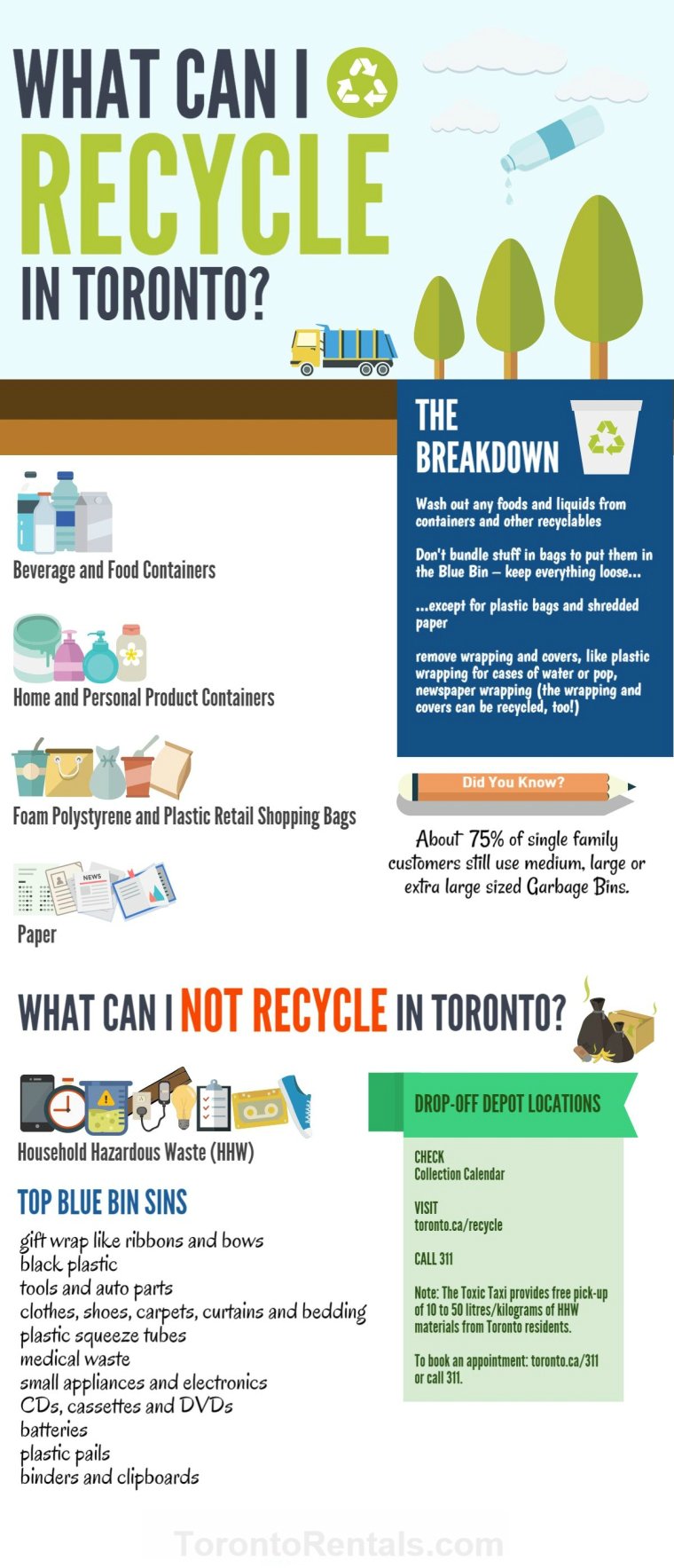 ---
Remember when recycling used to be a pain, and you had to check every bottle, can and container against the information card the city sent in the mail, to see what was allowed in the Blue Bin and what wasn't? No? I'm dating myself.
Anyway, times have changed, and recycling in Toronto is beyond easy. For Toronto renters who live in apartments and condos, your building likely has a garbage and recycling area where you'll find a Blue Bin (or several). That's where recycling belongs. Almost everything goes, but here's the breakdown of how to do it properly:
wash out any foods and liquids from containers and other recyclables
don't bundle stuff in bags to put them in the Blue Bin – keep everything loose…
…except for plastic bags and shredded paper
remove wrapping and covers, like plastic wrapping for cases of water or pop, newspaper wrapping (the wrapping and covers can be recycled, too!)
What can I recycle in Toronto?
clear and coloured plastic containers, tubs and jugs (except black plastic)
disposable plastic plates and cups
plastic bottles and jugs
milk and juice cartons and boxes
aluminum cans
metal cans (put the lid inside the can and pinch the top of the can closed)
empty paint cans (take the lid off)
cardboard cans (like frozen juice)
aerosol cans
plastic bags
foam food containers and packaging
pretty much all paper, including cardboard, newspaper and books
What can I NOT recycle in Toronto?
gift wrap like ribbons and bows
black plastic
tools and auto parts
clothes, shoes, carpets, curtains and bedding
plastic squeeze tubes
medical waste
small appliances and electronics
CDs, cassettes and DVDs
batteries
plastic pails
binders and clipboards
Of course, that isn't an exhaustive list of stuff that you'll probably use in your Toronto rental in a lifetime.
More on renting in Toronto: