Hurting for storage space in your Toronto apartment?
Yeah, join the club. Luckily, there are Ikea Hack to save the day and help renters across the city implement cheap, chic and practical storage solutions.
Today's Ikea Hack? Sexy metallic floating shelves that are as cheap as they are easy to create. Here's how.
The parts. You'll need:
Lack shelves (the number to buy depends how much space you have)– $19.99 each
Metallic spray paint. Either gold, silver or copper
Clear varnish or lacquer
Do it.
It's almost too easy to explain, but we'll do it anyway! Spray paint the lack shelves on all sides with the metallic spray paint. Give them several coats of paint, but let the paint dry between each coat. When the paint is even, finish the shelves with a coat of varnish or lacquer.
Now install the shelves on your wall according to the Ikea instructions, and add your display-worthy goodies!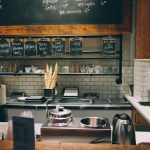 Source: Livet Hemma (if you love Ikea Hacks, check out their whole site. Amazing design inspo!)

Check out some more related Ikea Hacks here: