There's something about borscht and cabbage rolls that lines the stomach in just the right way, especially in the winter. Living in Toronto allows for some great Polish, Hungarian and Ukrainian restaurants that know how to fill bellies to the max. Most do homemade pierogies, which are positively heavenly.
Stuff yourself with homestyle dishes from the European mecca of meals that satisfy with these six restaurants:
Chopin's Polish food is among the best in Toronto. With a ton of homemade foods on their menu, and quite possibly the cities best pierogies, Chopin on Roncesvalles is doing it right. The restaurant is on the upscale side but the prices are still reasonable. Besides the pierogies, try the Hungarian pancakes, the pork hocks, hunter's stew and cabbage rolls.
Filling, traditional dishes keep this family-run restaurant super busy. Cabbage rolls, herring, borscht, pierogies, schnitzel, stews, homemade soups and hot sandwiches fill the need for homestyle comfort food and the Polish beers are a hit, too. Located on Roncesvalles, they're busy for lunch and packed at dinner time.
Crepes filled with stew certainly isn't a normal lunch in Toronto, but if you're keen to try something new, pop in to Krepesz Cafe & Bar on Augusta Avenue. They're a Hungarian joint specializing in crepes (filled with stew, or paprika chicken, eggs, nutella or berries and whipped cream) chimney cakes and beer.
Awesome food and great service are the highlights of the Albatros Pub in New Toronto. For many, it's worth the trip out towards Etobicoke for red borscht, schnitzel covered in gravy, homemade pierogies, potato pancakes and beer.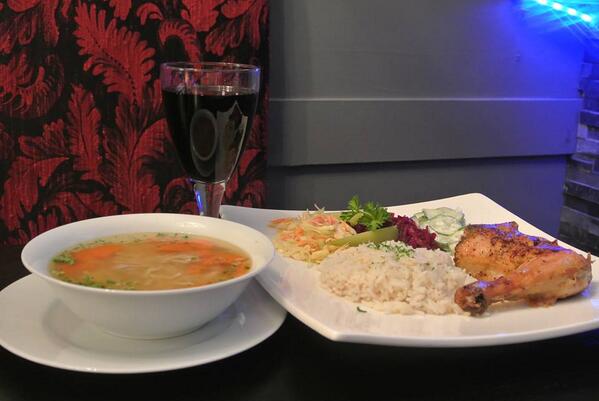 With traditional dishes from Poland and across central Europe, Kovalsky Restaurant on the Queensway has great prices and well-loved foods, from goulash to pierogies to kopytka and several kinds of schnitzel.
In Bloor West Village, the tiny Amber European Restaurant does Ukrainian food well, despite limited space. It's a very homey, casual spot with schnitzel, borscht, blintzes and cabbage rolls, but the prices tend to be higher than most similar restaurants.
Check out some more cultural eats: